Simple Scratch quizzes
| | |
| --- | --- |
| PROJECT INFORMATION | |
| INSTITUTION NAME | Ysgol Bro Hyddgen |
| ESTIMATED DURATION | 3 hours |
| AGE OF KIDS ADRESSED | 8+ |
| MATERIALS | Internet enabled device, Scratch installed on PC or internet access to use the online version of scratch. Projector may be required for teacher demonstration. See also the resources that you will need to print in advance. |
| TECHNOLOGY | |
| Nº OF STUDENTS | full class of 20-25 |
| Nº OF STUDENTS/TEACHER | 1 teacher for class of 25 |
| Nº OF STUDENTS/RESOURCE |  1 internet enabled device per pupil/group |
CODING ACTIVITY GOAL

The goal of the project is to get pupils to create a quick question and answer activity with scratch. This example would ideally suit a mathematical theme for pupils to create a question and answer game and them try each of their games with each other.

SPECIAL REQUIREMENTS

Knowledge level

Skills required

Teacher

LOW

LOW

Student

NONE

NONE

To take into account


Scratch is available both online and as a downloadable file. In a large ICT environment it may be easier to deploy scratch as a MSI file. If you use the online version then you will need to register for free using scratch. You will need a reliable internet connection and ensure there are no firewall exceptions in place for scratch to work using the online version.
PROJECT DESCRIPTION
By getting pupils to create a maths game with their scratch program they can then apply what they have learnt in their lessons in a practical activity. The lower ability will be able to apply basic techniques to a multiple IF. If the answer was correct the avatar would do one action and if the answer was incorrect the avatar would rotate 180 degrees etc.. The higher ability moved on to create a variable so the scoreboard also changed based on their result.
STEPS TO FOLLOW TO CARRY OUT THE ACTIVITY
Firstly open the MIT Scratch software or go online and access the online version.
Using the below instruction sheets you will be able to create a quick mathematic game using scratch. Also below is a quick scratch guide to give you a quick background into the program.
1)    Open the Scratch Program
2)    Select the type of background you would like
3)    Select a avatar
4)    Follow the instructions to create your game. Each time the answer is correct you can add a message saying "correct" and move the avatar closer to the finishing line.
Other Options:
With your higher ability pupils you could make a scoreboard.
With lower ability pupils and to provide a creative strand to the project they could make a race track and scan this into the program.
With activity is very flexible with a range of themes available for different pupil interest and abilities
Mathematical questions which range from a basic quiz of 4+4=8 to more complex 2 stage questions; 3+3×7
A quiz based on their learning in class e.g. historical dates quiz for history revision or a science or a spelling test to assess pupils in using specific words or terminology in a various subjects.
There are possibilities here of getting pupils to learn coding based on their interests e.e a football themed quiz with the scratch avatar playing on a football pitch or a subject specific quiz.
Resources available:
See Getting Started Guide for small activities to start your pupils with using scratch in order to get them to familiarize on how scratch works and use simple commands e.g. "meow" sound or "go forward 10".
See helpsheet with a step by step guide on how to create a quiz and a scoreboard.
See scratch poster to present on the wall of the classroom to remind students on how to make "IF" statements.
PHOTOS/VIDEOS OF THE ACTIVITY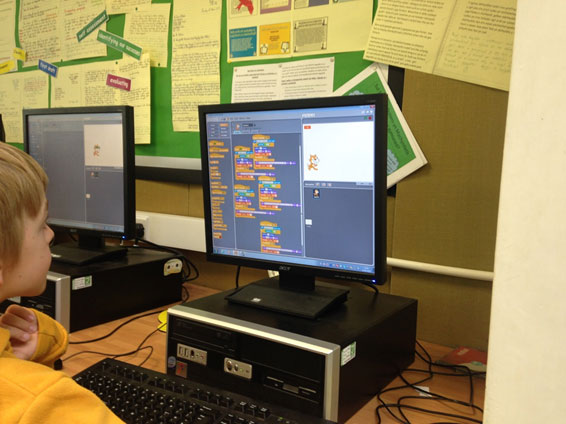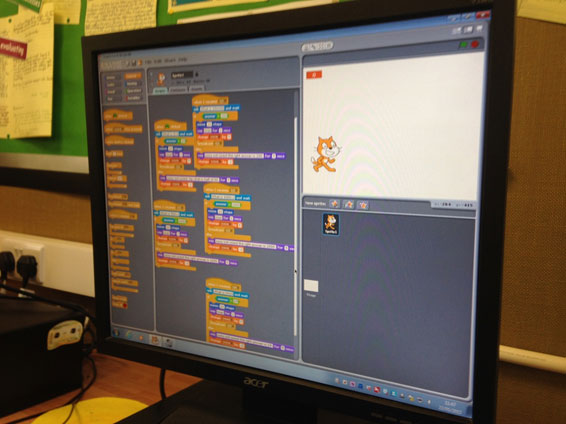 A SAMPLE OF CODE DEVELOPED

LINKS RELATED TO THE PROJECT
Support Materials:
Need some help getting started?
Here are some helpful resources.


Starter Projects – Download



Getting Started Guide – Download



Scratch Cards – Download