The University of Craiova team provides kids coding and technology in the Scoala Altfel week
The University of Craiova team provides kids coding and technology in the Scoala Altfel week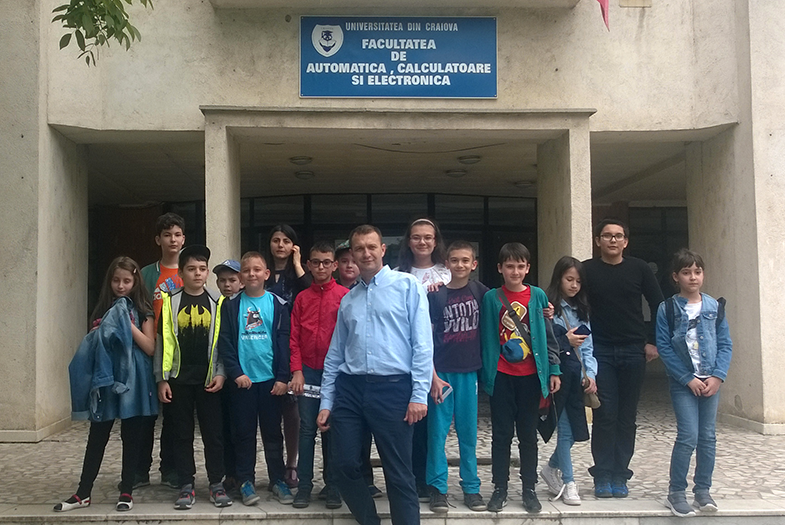 Last week, the University of Craiova team participated in the week called "Scoala Altfel: Sa stii mai multe, sa fii mai bun!" (in Romanian), in English stands from "A different school initiative: To find out more, to improve yourself!" organized by the Ministry of National Education and Scientific Research – http://sae.edu.ro/2016/despre.php.
The Scoala Altfel is a national project for encouraging children to discover in an informal way, new topics, including scientific/technological ones, and establishing links between different actors from the local/regional communities.
Within the framework of the Scoala Afetfel week, the UCV team developed with kids aged 9-11, scratch activities at the Faculty of Automation, Computers and Electronics of the University of Craiova in 2 different workshops, on the 19th and 21st April 2016. The kids were students at National College Carol I and National College Elena Cuza.
The two workshops consisted of a presentation of the of Faculty's robotics laboratories and facilities (i.e. INCESA – Infrastructure for Research and Applied Sciences) a recreational presentation/demo of 2 drones (Parrot Bebop2 and DJI Phantom 3) and an implementation of the coding activity Collaborative Storytelling with Scratch, activity developed by the University of Girona.
All in all, kids showed a great enthusiasm with the workshops and expressed their interest in programming and the technologies presented.